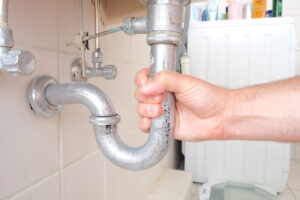 When it comes to quality plumbing services there are two options—service that works completely and service that doesn't. The reason why our team focuses on "service honoring the golden rule" is because we're committed to treating your plumbing system as if it were our own.
Sometimes homeowners get caught in a loop where they're constantly paying a plumber who they think is helping them with quick plumbing fixes. What's actually going on, is that this plumber is doing the bare minimum in order to score a few extra bucks from a homeowner that they really don't care about. It's despicable, and it's ultimately why we got into this business in the first place.
When it comes to things like Metairie, LA drain cleaning services—there should really only be one team to call. We're going to explain why we do the right thing every time, no matter what plumbing work you need to be done.
What Happens with Subpar Service
When you have a contractor that isn't quite as invested in your plumbing system as we are, bad things can happen as a result. For instance, here are just a few services that bad outcomes can be apparent when you hire the wrong person for the job.
Drain Cleaning
If your drains are clogged, an amateur plumber might try to tell you that it's a simple fix when it's really not. For instance, it could be your sewer system that's clogged, not just one drain. Or you could have a drain clog that's so strong, only the most powerful hydro jet equipment could remove it.
Subpar plumbers might take their sweet time, charge by the hour, and use harmful equipment like chemicals and tools that aren't quite right for the job. This is just unacceptable and its a big reason why homeowners don't trust plumbers like they should. If the plumber you usually contact takes forever to clean your drains to the point where you loathe calling them, then it's time to make a change.
Expert professionals that care about your home will do things differently. We'll use high-tech equipment like video pipe inspection in order to locate the clog and show you the damage. We want you to be in the loop so you know exactly what you're paying for when you hire us. We'll be fast, thorough, and actually target the root of your drain clog so you can spend more time with your family and less time stressing out over plumbing work.
Pipe Repair
Pipes need to be handled delicately. When an amateur repairs a pipe, things can go wrong, fast.
Some of the signs that pipe repair isn't being done correctly are things like incorrect pipe sizes, plumbers using the wrong materials, or plumbers charging you way more than they should to address the root of the problem, which might be something more insidious than just that specific pipe replacement
With our team, we make sure to diagnose and locate the problem before any work is done. Once we've communicated with you about the problem, we can move on to solving it. When you work with us, you're always in the loop and you get exactly what you pay for!
Contact Natal's Air Conditioning for plumbing services done right. Service Honoring the Golden Rule.