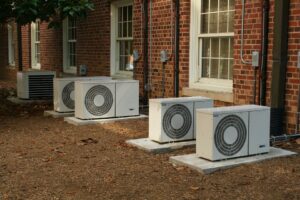 Your air conditioner requires a set amount of refrigerant in order to do its job. This is just a fact. How much refrigerant, the pressure at which the refrigerant should be kept, and the type of refrigerant is going to vary depending on the system you have and some other factors. For instance, R-22 refrigerant was phased out in 2020 and we now regularly use R-410A, which is a lot more environmentally friendly and still works just fine.
What we're trying to say is, refrigerant is the lifeblood of your system. It's going to be different depending on the system, but every air conditioner needs it. So when a system starts leaking refrigerant, it's only a matter of time before your home is too hot, your energy bills spike, and your AC breaks down.
We want to help you avoid the most expensive AC repairs in Harvey, LA. That's why we're going to go over some signs you'll notice when your air conditioner develops a refrigerant leak.